Intl desk, May 28: Turks vote on Sunday in a momentous presidential run-off to decide whether or not Recep Tayyip Erdogan should remain in power after 20 years.
His challenger Kemal Kilicdaroglu, backed by a broad opposition alliance, has billed the vote as a referendum on Turkey's future direction.
The president, who is favourite to win, promises a new era uniting the country around a "Turkish century".
But the more pressing issue is rampant inflation and a cost-of-living crisis, reports BBC.
Polling stations open at 08:00 (05:00 GMT) and close at 17:00 (14:00 GMT). The big vote from expats, carried out around the world, has already finished.
Turnout in the first round was an impressive 88.8%, and Mr Erdogan's lead was 2.5 million votes. That is why both candidates have their eye on the eight million who did not vote – but could this time.
Ahead of the run-off Mr Kilicdaroglu accused his rival of foul play, by blocking his text messages to voters while the president's messages went through.
Opposition parties are deploying an army of volunteers in a bid to ensure no vote-rigging takes place.
International observers spoke of an uneven playing field after the first round. But there was no suggestion that any irregularities in voting would have changed the result.
Mr Kilicdaroglu promised a very different style of presidency on his final day of campaigning: "I have no interest in living in palaces. I will live like you, modestly… and solve your problems."
It was a swipe at Mr Erdogan's enormous palatial complex on the edge of Ankara which he moved to when he switched from prime minister to president in 2014. After surviving a failed coup in 2016 he took on extensive powers, detained tens of thousands of people and took control of the media.
So it was laden with symbolism when he paid a campaign visit on Saturday to the mausoleum of a prime minister executed by the military after a coup in 1960.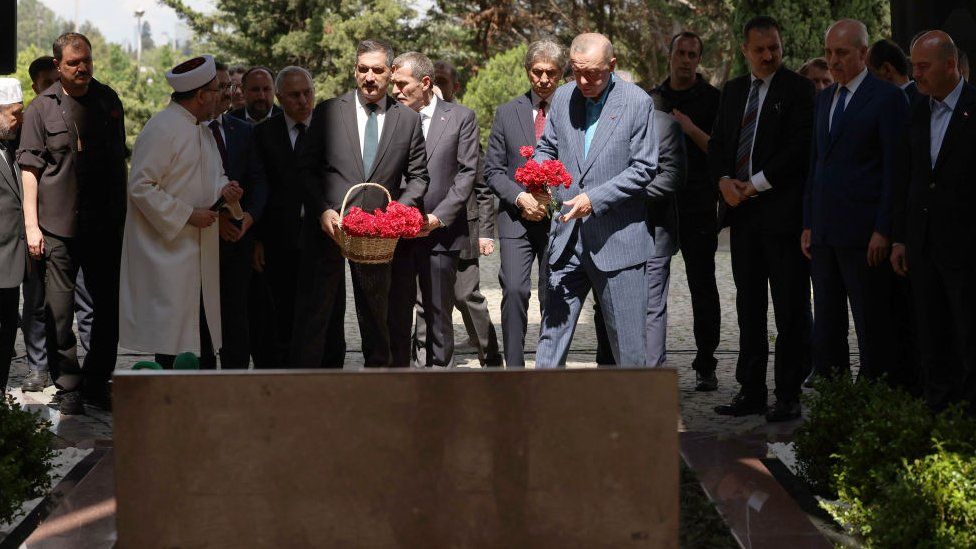 "The era of coups and juntas is over," he declared, linking Turkey's current stability to his own authoritarian rule.
Turkey, however, is deeply polarised, with the president reliant on a support base of religious conservatives and nationalists, while his opposite number's supporters are mainly secular – but many of them are nationalist too.
For days the two men traded insults. Mr Kilicdaroglu accused the president of cowardice and hiding from a fair election; Mr Erdogan said his rival was on the side of "terrorists", referring to Kurdish militants.
But after days of inflammatory rhetoric about sending millions of Syrian refugees home, the opposition candidate returned to Turkey's number-one issue – the economic crisis, and in particular its effect on poorer households.
A 59-year-old woman and her grandson joined him on stage to explain how her monthly salary of 5,000 lira (£200; $250) was now impossible to live on as her rent had shot up to 4,000 lira (£160; $200).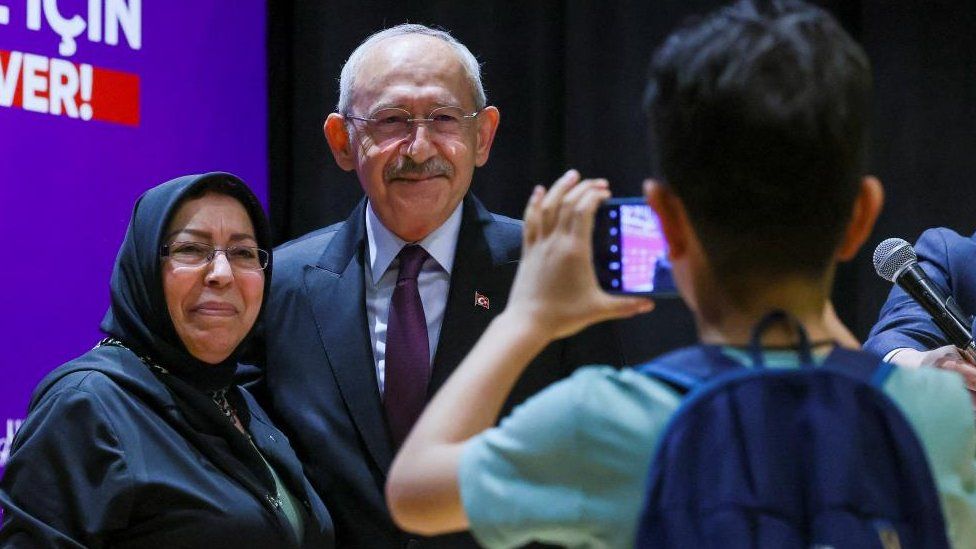 It may have been staged, but this is the story across Turkey, with inflation at almost 44% and salaries and state help failing to keep pace.
Economists say the Erdogan policy of cutting interest rates rather than raising them has only made matters worse.
The Turkish lira has hit record lows, demand for foreign currency has surged and the central bank's net foreign currency reserves are in negative territory for the first time since 2002.
East of Ankara, gleaming tower blocks have been springing up in Kirikkale. It looks like boom-time for this city, run by the president's party.
But many people here are struggling.
Fatma has run a hairdresser's for 13 years but for the past two, work has dried up, and the cost of rent and hair products has soared.
She voted for an ultranationalist candidate who came third, and does not trust the two men left in the race.
A few doors up the street, Binnaz is working a sewing machine at a shop for mending clothes.
People cannot afford new dresses so she is earning much more, even if her monthly rent has trebled to to 4,000 lira. Despite Turkey's stricken economy, she is putting her faith in the president.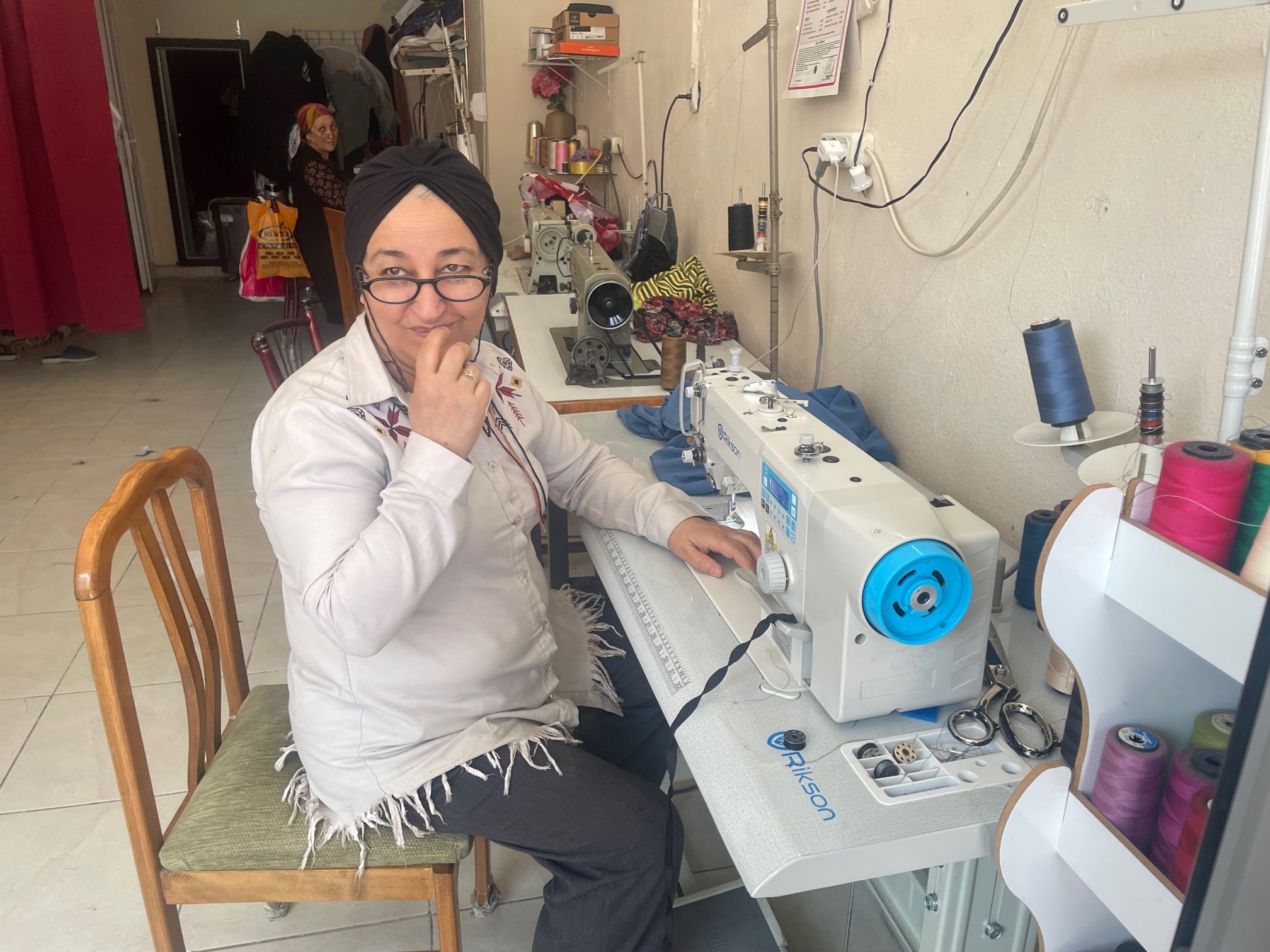 Outside a supermarket, Emrah Turgut says he is also sticking with Mr Erdogan because he has no faith in the other option, and believes the president's unfounded allegations that the biggest opposition party co-operates with terrorists.
Turkey's second-biggest opposition party, the HDP, denies any link to the militant PKK, but President Erdogan has used their backing for the rival candidate to suggest a link to terrorists.
Whoever wins on Sunday, Turkey's parliament is already firmly in the grip of Mr Erdogan's Islamist-rooted AK Party and its far-right nationalist ally, the MHP.
The AKP also has the youngest MP, who arrived in parliament on the eve of the presidential vote.
Zehranur Aydemir, 24, believes if he wins then he will lay the foundations for a century in which Turkey will become a global power: "Now Turkey has a bigger vision it can dream bigger."
It is another grandiose Erdogan project, but Turkey's economy is likely to prove a more pressing task, whoever wins the run-off.