Intl desk, May 21: Russian President Vladimir Putin has congratulated the Wagner paramilitary group, after it claimed to have captured the Ukrainian city of Bakhmut.
Wagner founder Yevgeny Prigozhin – posing with some of his fighters – made the claim in a video posted to social media on Saturday.
Ukraine's deputy defence minister rejected the claim, but admitted the situation in the city was "critical".
One of the war's bloodiest battles, fighting has raged since August, reports BBC.
Wagner paramilitary forces have led the Russian attack on Bakhmut – which analysts say is of little strategic value to Moscow – and has seen thousands of troops killed.
Ukraine, for its part, has also decided to make a stand in a battle which has become the longest and bloodiest of the war so far.
But in comments carried by Russian state media, Mr Putin claimed Wagner troops, supported by Russian air force jets, had completed "the operation to liberate" Bakhmut on Saturday after months of intense fighting.
Mr Prigozhin, a close ally of the Russian president, leads the thousands-strong group, nominally a private military company.
He has claimed before that his forces have taken Bakhmut – or most of it – only for Ukrainians to swiftly deny the claims. Mr Prigozhin has also targeted top Russian military officials, criticising them publicly for not supplying his troops with enough ammunition.
In his latest video claiming control of Bakhmut, Mr Prigozhin said "no-one can pedantically reproach us for the fact that at least some piece was not taken".
Explosions can be heard in the background, suggesting fighting continues close to the city, if not inside it.
He also promised to hand the city over to regular Russian troops later in the month.
His claims were echoed by the Russian defence ministry on Saturday night, state media in Moscow reported.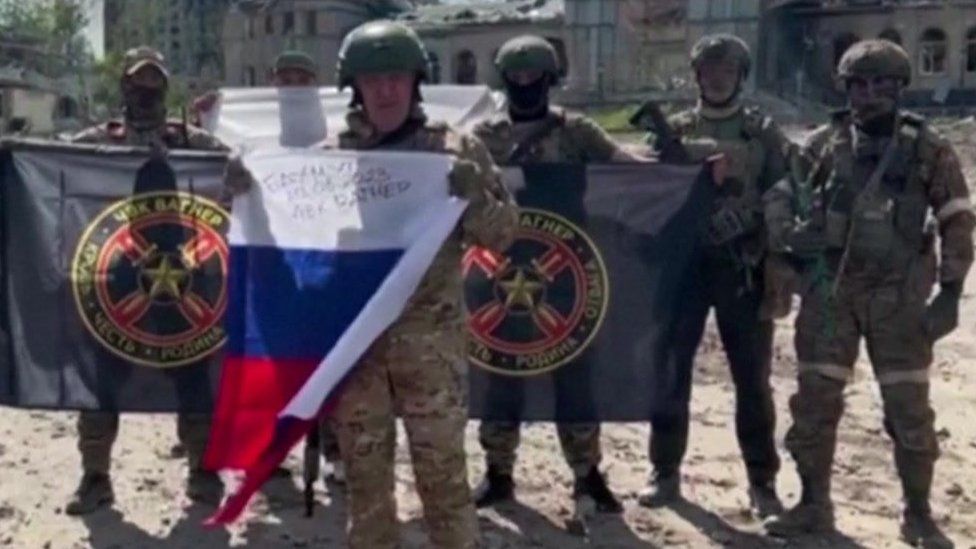 But in a statement on the messaging platform Telegram moments afterwards, Ukrainian Deputy Defence Minister Hanna Maliar said: "Heavy fighting in Bakhmut. The situation is critical.
"As of now, our defenders control some industrial and infrastructure facilities in the area and the private sector."
Western officials estimate between 20,000 and 30,000 Russian troops have been killed or wounded in Bakhmut, while Ukraine's military has also paid a heavy price.
There is hardly a building left unscathed, and the city's entire population has vanished.
The latest Wagner claim came as Ukrainian President Volodymyr Zelensky went to Japan to attend a meeting of the leaders of the world's most industrialised countries, the G7.
His Western allies pledged more support, including taking a significant step towards providing F-16 fighter jets, and announced more sanctions on Russia.
Russian troops invaded Ukraine on 24 February last year and control parts of its east.
Ukraine has been expected to launch an offensive to retake seized territories, but Mr Zelensky recently said that more time is needed to prepare.
He has called Bakhmut "a fortress" of Ukrainian morale.
Ukraine's hope is that the fight over Bakhmut has blunted Russia's ability to conduct its own offensive operations, and exhausted its army and supplies.